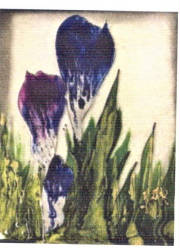 JANUARY 13, 2018 BUSINESS MEETING AND 3/4 HOUR CLASS WITH MARILYN TRACY AND DEB HUTCHINS
PEBEO PAINT WILL BE PROVIDED BY THE CHAPTER. A GLASS SURFACE WILL BE AVAILABLE TO PURCHASE FOR A NOMINAL FEE. YOU WILL NEED TO BRING DYNASTY'S #610 -- #12 AND #6 EYE OF THE TIGER BRUSH AS WELL AS #635 -- 3/4 EYE OF THE TIGER. Christmas gift brushes). Bring regular painting supplies, 6 empty soda bottle caps, paper towels cut into quarters (6x6) Q Tips, 8 x 8 clean glass surface which can be ordered from Marilyn for $2.00 (must be ordered by January 6th). Class fee is $5.00.





DON'T FORGET TO BRING AN ITEM FOR THE STONE SOUP LUNCH.



To register for this 3/4 Hour Class or any future class, please contact Marilyn Tracy at mtracy4104@comcast.net.












We encourage beginners and non-members to join our Paint-Ins or 3/4 Hour classes. You may visit two times during the year prior to making a decision to join the Chapter.