Here's a list of events and activities scheduled for the next couple of months. We'll update this page frequently, so check back often to stay up to date. If you need more specific info, please see the Paint-In and Meeting Project Info page in the PVDA Committee News section.
August - No planned PVDA Event.





September 8, 2018 Business Meeting and Community Service Project w/Shirley Turner.



October 13, 2018 Paint-In with Ann Gibbons - Candy Canes






November 10, 2018 - Paint-Community Service Project - Hospice Ornaments




December 8, 2018 - PVDA Christmas Celebration
























Upcoming Events for 2018
Society of Decorative Painters - 46th Annuual Conference and Expo - May 8 - 12, 2018



Heart of Ohio Tole Annual Decorative Painting Convention August 7-11, 2018 (next to last convention)



New England Traditions 20th year - October 2 - 7, 2018.
undefined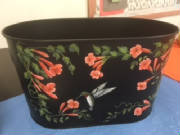 May Class w/Lee Hickman.