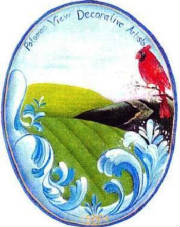 What is Decorative Painting?
According to the National Society of Tole and Decorative Painting now known as the Society of Decorative Painters (SDP)(www.decorativepainters.org) decorative painting is an art form that uses a variety of techniques to decorate functional and non-functional surfaces. The use of patterns and freehand designs give a high degree of success without formal training or any inherent drawing ability. With creativity, and practice, decorative painting enables artistic self-expression and creative satisfaction.
You are welcome to drop by any PVDA Chapter meeting and check us out. See PVDA's calendar of events below. Click PVDA Commitee News Section (titles on the side-bar) and then click on the Paint-In and Meeting Project Information link for more information.
Beginners are encouraged to join in and we guarantee you will learn a lot, have a good time painting and will enjoy the fellowship of new painting friends. Classes are taught in a "paint along" style. Instructors will guide you step by step as you create the featured project and before you know it, you will have created your own piece of art. Absolutely no experience is necessary to have a great time.
Non-membes are encouraged to attend our events - you may attend 2 times per year without joining the painting chapter.
Whether you are an experienced artists or just discovering your hiddent talents, PVDA will provide opportunities to learn and paint, as well as develop new friendships.
CLASSES/PAINT-INS -2nd SATURDAY OF THE MONTH - 10:00AM
November 14, 2015 - Business Meeting, Elections and colored pencil project with Pat Benanti
December 12, 2015 - Christmas Celebration, Silent Auction and Annual Raffle Drawing, Installation of Officers.
January 9, 2016 - Business Meeting, Stone Soup Lunch and 3/4 Hour Mystery Class w/Mary Steingesser
February 13, 2016 - Paint-In w/ Fran Schmitt - Face - Santa
March 12, 2016 - Business Meeting Community Service Project w/ Shirely Turner and Mary Steingesser
April 9, 2016 - Paint-In with Kathy Denneler

PVDA is currently planning a Ros Stallcup Seminar April 16-17, 2016.